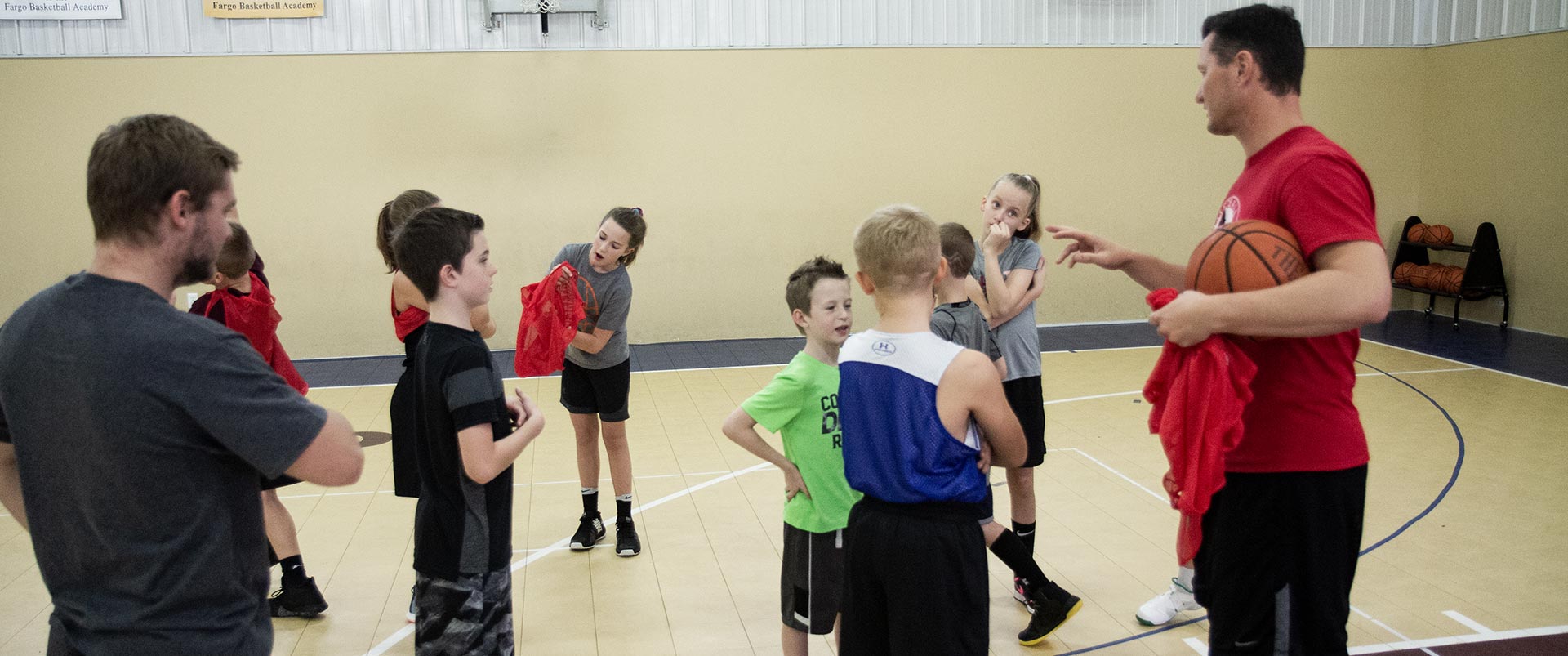 Summer Clinic Offerings
During the summer we offer 4-day clinics each week that span Monday through Thursday. Our morning clinics will be offered from 9:00 am -12:00 pm, while our afternoon clinics will run from 1:00 pm-4:00 pm. Registration will be for the grade the athlete will be entereing the upcoming school year. We have a variety of summer opportunities including basketball camps, volleyball camps and a new sports sampler camp!
We have built a great team of instructors to work with your athlete this summer. Our basketball clinics will be staffed by a former NBA player, former high school coaches, collegiate players and other FBA staff members. Our volleyball camps are staffed with collegiate players and former high school coaches.
Sports Sampler Camp: Grades 2-5 (co-ed)
While we love basketball, we know that life is too short for just one sport. This sports sampler camp offers a variety of indoor and outdoor sports for elementary age athletes. Participants will get instruction and game play in basketball, soccer, kickball, dodgeball and more to keep your child active this summer. This camp is designed to give young athletes a taste of different sports in a fun and educational environment.
Youth Basketball Clinic: Grades 4-6 (co-ed)
This all-around skill clinic will focus on enhancing a player's solid set of fundamentals including shooting, passing, ball handling and defense. Athletes will accelerate their skills with advanced offensive and defensive techniques, while building a solid basketball IQ. Multiple opportunities for controlled scrimmaging will allow the players to utilize and display those new skills in a real game environment.
Youth Volleyball Clinic: Grades 4-6
This clinic is designed to develop crucial volleyball fundamentals to prepare elementary age players for competitive volleyball. The athletes will work on proper technique for passing, setting, hitting and serving in an environment that blends skill work with fun activities and competitions. Players will put those skills into practice through opportunities including scrimmages and other game-like scenarios throughout the clinic.
Middle School Basketball Clinic: Grades 6-8 (co-ed)
This all-skills clinic is designed for experienced players ready to accelerate their skills. This clinic is designed to improve fundamentals and overall knowledge of the game. The individual skills addressed will include advanced concepts related to ball handling, passing, shooting, post moves, rebounding and defense. Through scrimmage opportunities, there will be a chance for the participants to utilize those new skills in a game environment while also highlighting the importance of spacing, positioning and communication.
Middle School Volleyball Clinic: Grades 6-8
This clinic is designed is designed to enhance an already solid set of volleyball fundamentals. Instead of working on skills in isolation, many of our drills will put them in combination to build on those fundamentals of passing, setting, hitting, defense and serving. Throughout the week there will be multiple opportunities for competitive scrimmages and game-like activities.
High Performance Basketball Clinic: Grades 9-12
This clinic is designed for players preparing for high school basketball. Players will elevate their game by building on an already strong fundamental core. There will be opportunities to enhance individual skills such as ball handling, passing, post moves, rebounding, finishing and defense as well as techniques for consistent scoring at high, game speeds. Opportunities for implementing these skills in a game-like environment will also be a component of the clinic.
Please note that as our camps are geared mostly toward advanced players, we will continue to offer our entry level basketball classes (Just Starting, Hoops for Fun and Basketball Basics) on Friday mornings.