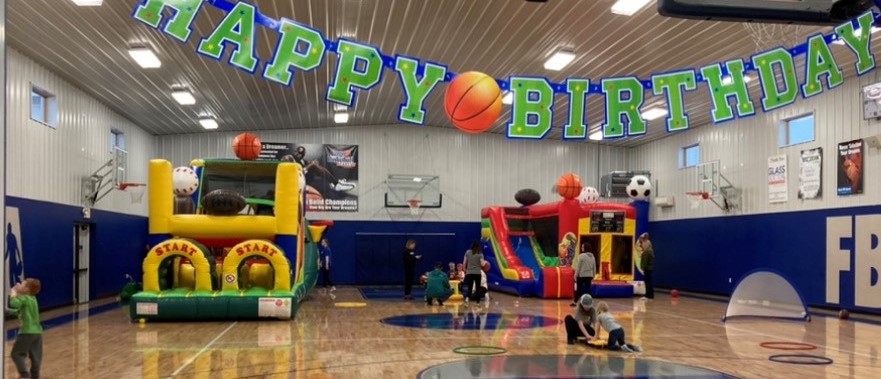 Birthday Parties
Birthday Fun at the Fargo Basketball Academy
Celebrate your child's birthday with a wide range of fun activities at the Fargo Basketball Academy. We book parties all year round, so no matter what the weather is like, we offer a great way for kids to have fun with their friends while being active.
All Party Packages Include:
1 hour in the gym with amenities of your choosing
30 minutes in the back party room
2 large pizzas (cheese or pepperoni)
12 water bottles
You would be welcome to bring in any other food or birthday treats that you would like to serve.
---
We offer several party packages that include use of the gym for one hour. We typically set up the gym similar to how we do our preschool playdates with the bounce houses on the back half court and the scooters, soccer nets and basketball hoops on the other half court.
Our current birthday party prices are as follows:
$225: Includes gym amenities with both bounce houses
$200: Includes gym amenities and the smaller bounce house
$175: Includes gym amenities only
Prices include 12 children. Additional guests can be added on at the rate of $10/child.
---
Birthday parties are scheduled based on gym availability. During the school year, we schedule birthday parties on Saturday afternoons and evenings only. (Options include 1:30-3:00 pm or 4:00-5:30 pm). During the summer months, we also host parties on Fridays (Options include 3:30-5:00 pm or 6:00-7:30 pm).
Request a Birthday Party Today