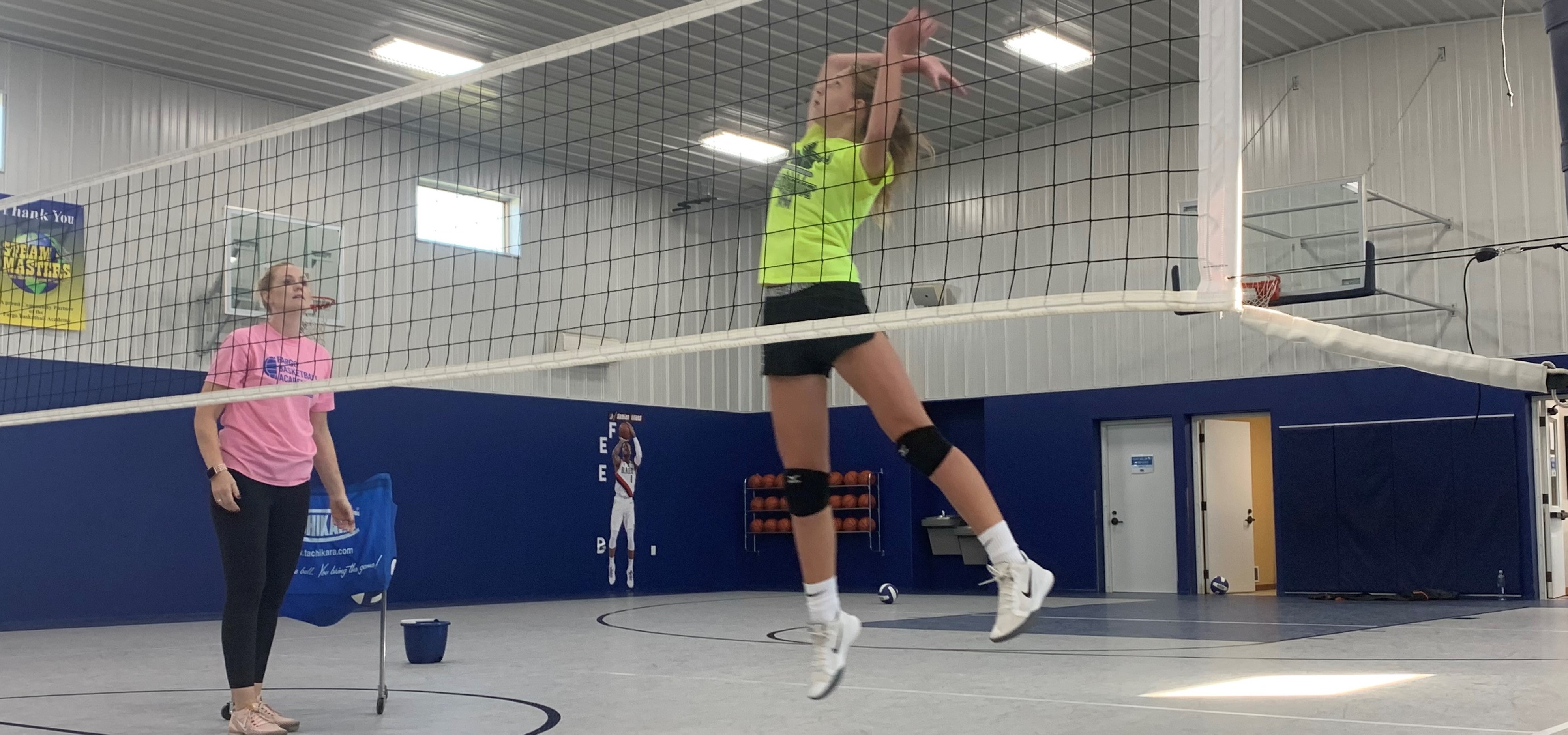 Volleyball Private Lessons
VIEW AVAILABLE PRIVATE LESSON OPTIONS
Our private lessons are perfect for the player that wants to improve specific aspects the game. Private lessons consist of one hour of personalized volleyball training. Each lesson could incorporate everything from passing, setting, hitting, blocking, serving and defense. It is an individualized, all-around workout that is tailored to meet your specific needs. Private lessons can be conducted individually or with a small group of players.
Private Lesson Prices (per hour):
| Lesson Type | All Volleyball Instructors (Haley Ortiz, Sara Schwanke, Morgan Morgan, Anna Vandevoort, Annie Fettig, Olivia Vetter) |
| --- | --- |
| 1 Player: Private Lesson | $60 |
| 2 players: Semi-Private Lesson | $80 ($40 per player) |
| 3 Players: Semi-Private Lesson | $90 ($30 per player) |
| 4 Players: Semi-Private Lesson | $100 ($25 per player) |
Volleyball private lessons are offered in a limited quantity on Sunday morning and afternoons. Due to the limited nature, volleyball private lessons are only scheduled as individual occurrences. Please call or complete the request form for scheduling.

Volleyball Private Lesson Location:
Fargo Basketball Academy:


5409 53rd Ave S | Fargo, ND 58104
---
Testimonials from recent parent emails:
She was so excited after her lesson. She LOVED Anna. She said it was the best coaching she's ever received and was really hoping she could do it again. Thank you so much! I am emailing to let you know what a fantastic lesson N had with Annie. N's confidence took a blow from our local JO team and a private lesson sounded like salt in a wound. She went and Annie made it a fantastic experience. N left with goals and a great sense of worth. I was in tears when I thought back to the total attitude change and confidence. Thank you, thank you!! She went to practice the next day prepared and feeling like she had value and really excelled. I am thankful and hope we can work out more lessons in the future. Thank you... as a mom it is heartbreaking to see your kid struggle with self worth. The girls are loving Anna as their volleyball trainer at FBA! She is AMAZING!