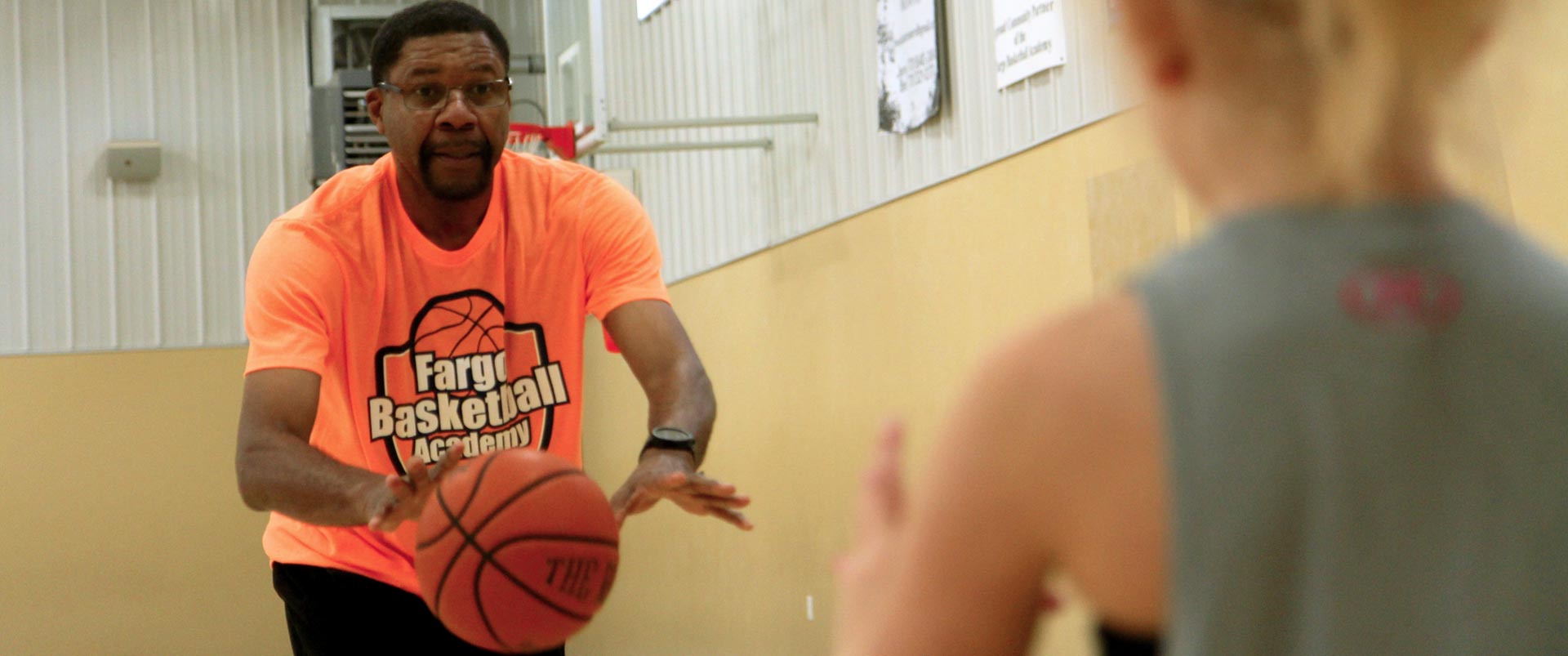 Basketball Skill Classes
We have years of experience helping players from all around become better all-around players. No matter the age group or skill level, our sessions are as fun as they are informative. We offer six levels of classes, all with progressive skill challenges involving footwork, conditioning and basketball development, for players ranging from kindergarten to high school seniors. Our basketball sessions are offered at a variety of days and times. These classes run in consecutive 5-week sessions and are either 60 or 75 minutes in length depending on the level. The cost for the entire 5-week session runs $85.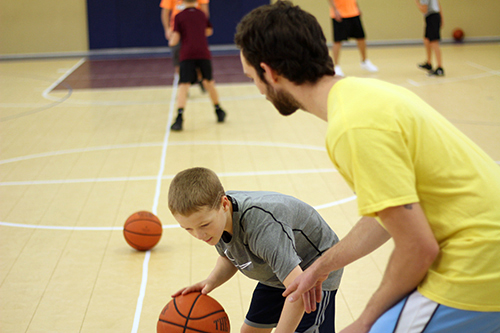 Players are grouped by ability (rahter than age) as determined by a variety of measurable skill sets. Players that reach a defined skill level or complete a skills challenge advance to the next level. The curriculum is customized for the experience level of the players. Our goal is to help each player with his/her overall basketball improvement, but more importantly, we want each participant to develop a clear understanding of what it takes to get better.
Just Starting
Pre-K and Kindergarten. Must be at least 4 years old.
Note: Adult participation is required with any 4 year old participant.
The activities at this level are more play oriented such as group relay races, shooting games, cone dribbling and group passing games. The main objective here is to have a ball in the childrens' hands, dribbling, passing or shooting as much as possible. The basketball hoops will be lowered to 8 feet for this level and players will use a miniature 7-inch ball. The goal is for them to start developing a joy for basketball while interacting with other children their age in a fun, friendly atmosphere.
Hoops for Fun
Approximately Grades 1, 2, 3
This level is designed as an introduction to the sport of basketball. Geared towards players with limited expereince, we will introduce the basic lines on the court as well as basic basketball rules such as traveling, double dribble, and fouls. The curriculum will focus on stationary ball handling (learning to get comfortable with the ball), dribbling, passing and catching techniques, jump stops and pivots, and basic defensive stance. Games such as dribble tag or basketball relays will be played to make the class fun while we build towards playing in a real game situation. The basketball hoops will be lowered to 8 feet for this level.
Basketball Basics
Approximately Grades 3, 4, 5
This session is designed to help players start to learn proper shooting mechanics using both hands and both directions. Experienced players in this level should already have the ability to shoot a dominant hand layup on a 10' hoop with proper footwork. They need to be able to shoot at a 10-foot hoop since all baskets are up at 10 feet for this level. We begin to teach them how to shoot a weak hand layup and shot. When we do the Mikan Drill, we encourage them to shoot with the right hand on the right side and the left hand on the left side of the basket. The curriculum will focus on stationary dribbling skills, advanced change of direction and combination dribble moves, weak handed one foot lay-ups, jab step and swing through moves, passing on the move, zig-zag defensive slides and shooting on the move.
Individual Skills and Fundamentals
Approximately Grades, 5, 6, 7
This session is designed for experienced players preparing to enter junior high basketball. All kids in this level should be able to demonstrate proper footwork while shooting both right and left hand layups using their proper hand to shoot. They should have no problem doing the Mikan Drill using both hands. Solid ball handling skills with both the right and left hand are also a pre-requisite for this course. The curriculum will focus on advanced, in-place dribbling skills with both hands, dribble moves to score on both sides of the court, reading screens, post moves, rebounding, getting open on the wing, wing denial, conditioning and advanced offensive and defensive footwork. Controlled scrimmaging will be used to display skills in a real game environment.
Advanced Strategy Concepts
Approximately Grades 7, 8, 9
This session is designed for players preparing for high school basketball. The curriculum will focus on conditioning, ball handling and scoring at high, game speeds. We'll also focus on advanced drill work in all aspects of the game including detailed offensive, defensive footwork and shooting consistency. Our staff at the Fargo Basketball Academy is comprised of highly skilled instructors, that have all played the game at the collegiate level and have coaching experience. Most importantly, we possess great character, have a high level of eagerness, and thoroughly enjoy working with middle school and high school aged young men and women.
Varsity Enhancement
Approximately Grades 9, 10, 11, 12
This session is designed for advanced players, generally with high school junior varsity or varsity experience. All of our training sessions are small group, position specific workouts, designed to help each and every athlete perform to his or her highest level. The sessions will at times follow a college practice format with some scrimmaging.