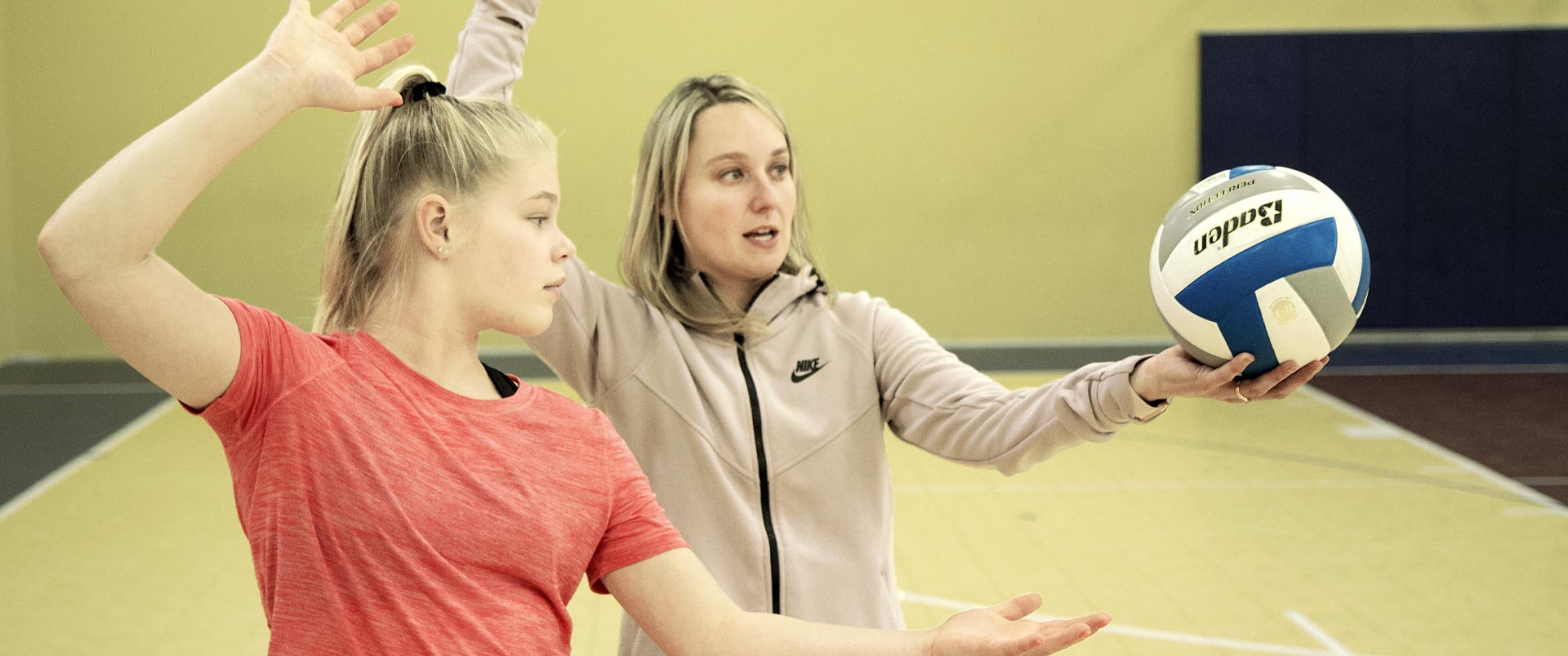 Volleyball Skills Classes
As volleyball becomes increasingly popular and more competitive, so does the need for year-round instruction. At the Fargo Basketball Academy we now offer volleyball skill sessions to help young players hone their skills.
We offer three levels of classes, all with progressive skill challenges involving passing and hitting skills.
Our volleyball sessions are offered on Mondays. These classes run in consecutive 5-week sessions and are either 60 or 75 minutes in length depending on the level.
The cost for the entire 5-week session runs $90.
Class sizes are kept between 12-14 players.
Players are grouped by ability as determined by a variety of measurable skill sets. Players that reach a defined skill level or complete a skills challenge advance to the next level. The curriculum is customized for the experience level of the players. Our goal is to help each player with his/her overall volleyball improvement, but more importantly, we want each participant to develop a clear understanding of what it takes to get better.
Level 1: Volleyball Beginners
For players with little to no experience; approximately Grades 3-5
This level is designed as an introduction to the sport of volleyball. Geared towards first time players or those with only a year of experience, we will work on the basic volleyball skills. Most of the time will be spent on proper passing form and footwork, with the goal of passing to a target. We will also work on setting technique and hitting footwork. All of this will be done in a setting that blends skill work with fun activities and competitions.
Level 2: Volleyball Basics
For players with some experience; approximately Grades 5-7
This level will place an emphasis on continuing to develop the fundamental volleyball skills of passing, setting, hitting and serving. At this level, we will continue to practice passing to a target, from both a free ball or a down ball. Players will begin work on the overhand serve, placing emphasis on the toss. There will be many opportunities practice to hitting footwork and timing from either a set or toss. This level will blend important skill work with fun, competitive activities.
Level 3: Volleyball Advanced Skills
For players with much experience; approximately Grades 7-8
This level is designed is designed to enhance a solid set of volleyball fundamentals. Controlled passing is a pre-requisite as players will work on both receiving an overhand serve and digging a hit. Players at this level must be able to consistently serve overhand as we will work on spot serving. In addition, players at this level will come in with a solid grasp of hitting footwork and timing so that we can work on spot hitting in addition to blocking skills. Instead of working on skills in isolation, many of our drills will put a variety of skills in combination requiring strong fundamentals in passing, setting and hitting. This level will include multiple opportunities for competitive game-like activities.